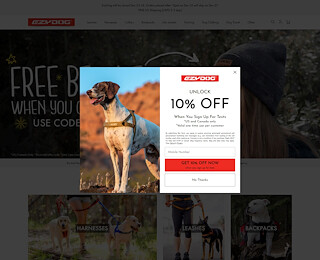 A dog harness from EzyDog is anything but boring. It is available in different colors and styles while making sure that it is a perfect fit for your dog. Explore the range of comfortable, lightweight, and adjustable dog harnesses in our website. If you cannot decide what to buy, check out what other dog owners are saying about the top rated harnesses.
A lot of pet owners opt for harnesses instead of dog collars. Should you switch to a dog harness? Your decision should depend on several factors. Here are some things to keep in mind:
•
If your dog is a bit jumpy, likes to pull on you, then it is better to get a harness. Dogs are easier to discipline if you have better control over them.
•
Huge breeds like Saint Bernards or Great Danes are hard to control simply because of their size. They can very easily drag you when you are out on a walk. For your sake and for the sake of your dog's neck, use a body harness instead.
•
Puppies are still developing and they can get really squirmy. If you use the wrong collar for your puppies, they can end up with bruised necks.
•
If you and your dog are quite the active pair, invest in a harness. It can outlast a collar and it can provide comfort for your dog during long-haul treks.
If you are looking for a good-quality dog harness, shop here at EzyDog. Our company caters to dogs with active or outdoorsy lifestyles. Aside from harnesses, we also sell rashies and life vests for water-loving dogs. Check out our range of active-dog merchandise here at EzyDog. You can order online or through a dealer (just click on the store locator).
Related Posts