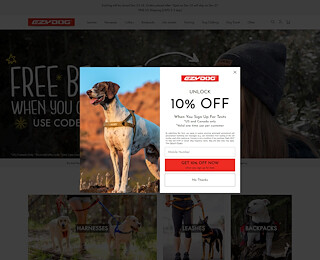 Find the
best dog harness
from EzyDog. Our harnesses are safe and comfortable restraints that are comfortable and stylish for every dog. A dog harness is a great addition to a jog, a walk in the park, or a short trip to town with your pooch. Explore our selection of dog harnesses and other products for your dog at EzyDog.Com.
You might not know it but a dog collar can actually hurt your pet. It can cause serious neck injuries, ear and eye issues, hypothyroidism, and even malfunction of the forelimbs' nervous system. To prevent problems like this, use the best dog harness you can find. There are many benefits to using a harness instead of a collar:
•
Discourage pulling - With a collar, dogs still think they can move forward even when pulled. But with a high quality harness, they won't be able to budge.
•
Stop jumping - If your dog is the type to jump up on people, it is best to use a harness to keep the paws from leaving the ground.
•
Ideal for puppies - Harnesses aren't just for the big dogs. Puppies can benefit from harnesses, too. Collar might be too harsh for small pets. They may end up hurting or injuring themselves.
If you are looking for the best dog harness then shop here at EzyDog. Our products are best suited for dogs with active lifestyles. We keep in mind the comfort of pets while also considering the owner. Check out our selection of stylish and functional harnesses. We also offer other products like backpacks, dog clothing, car restraints, and leashes. You might want to sign up for an account here at EzyDog for quicker transactions.
We welcome your comments!