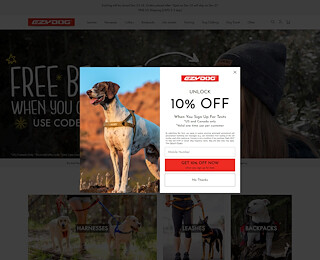 EzyDog harnesses are perfect for your pooch due to their simple and adjustable design that ensures a perfect and comfortable fit.  We have colorful and fun harnesses that are top rated by our customers. Visit our website and see the complete range of
dog harnesses
to find the best product that matches your dog's needs.
Can't decide if you should buy a collar or a harness for your pet? You have to consider a lot of factors, such as the activities you do with your dog to its size and breed. Here are some advantages to using dog harnesses instead of collars:
•    Control - It is harder to control dogs with just a collar. You can easily restrain them, especially if they are pulling, with a harness.
•    Ideal for puppies - As you might notice, puppies have disproportionately large paws for their bodies. It is usual for them to get all clumsy, so it might be a risk to use a collar. They can get all tangled up when they have a leash on.
•    Discourage negative behavior - Aside from helping you control your dog's pulling, a harness can also stop your pet from jumping and getting distracted during hikes and walks.
•    Health – Some collars can choke your pets. Switch to a harness, especially if you have a short-nosed dog.
Whether you decide to get a collar or harness, you can shop here. EzyDog offers an excellent selection of both. Our dog harnesses are made of durable material yet still offers comfort for the dog and control for the owner. You can either shop this website for a harness or collar, or you can purchase from one of our dealers.
We welcome your comments!