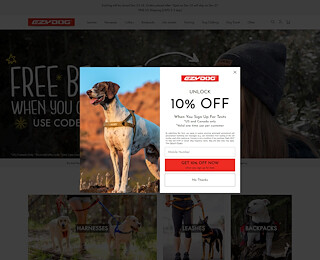 It is not difficult to find a
small dog harness
when you choose to buy from EzyDog.Com. Our harnesses are adjustable for small and large dogs alike, and they are favored among new and experienced dog owners alike. We have puppy harnesses, too. All our harnesses are comfortable and lightweight for your small canine.
According to studies, dogs like pugs and Pomeranians tend to choke or develop breathing problems when pulled on a collar. This is why if you have a short-nosed dog, you might want to invest in a harness. It's now easy to purchase a small dog harness online and make walking much more enjoyable for your 4-legged friend. The many advantages of using a harness include:
•
Better control – You will pull on the dog's entire body instead of just the neck. This eliminates the risk of neck strain and injuries. 
•
Easy-to-use - Just snap it on and off. One easy adjustment is all it takes for a perfect fit.
•
No tangles - The problem with collars is that your dog tends to walk all over the leash and end up in a tangled mess. Most harnesses have D-rings on the back to eliminate tangling issues.
If you are looking for a harness that will suit your pet as well as your taste, shop here at EzyDog. We carry durable small dog harnesses and other accessories in a variety of colors. You might also be interested in purchasing a leash to go with the harness. We have shock-absorber, lite, runner, and other specialty leashes to suit your activities. EzyDog is dedicated to providing comfortable and safe yet stylish supplies for active dogs. You can order online or purchase from one of our many dealers, available throughout the nation and even in other countries.
We welcome your comments!